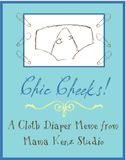 The Tender Tush wins the sad prize of my least favorite diaper.
I bought them when my first was about 4-5 months. I thought they were cute and had good reviews on the DiaperPin. They are HUGE. I have the infant size, they are supposed to fit 7-20 lbs. Well, in my experience, they just start fitting well at 20 lbs. In fact I'm pretty sure I could still put one on my 27 lb toddler.
Here's my 12 weeks old in one.
There is also so much stiff fabric in the middle, I can't see how a baby can be comfortable with that bulk. Yet they still don't absorb that much and take forever to dry, even if they have a flap type of soaker. I have to put them in the dryer, otherwise the sherpa fabric gets super stiff and rough.
She is not a small baby either, she was 12 lbs 2 weeks ago. So probably 13lb or so now. See the unnecessary bulk on the bum and how high the rise is? We have to use covers a size bigger than usual over them.
To compare, here she is in a Kissaluvs size 1, rated 10-25 lbs. They are also wide in the crotch area, but not stiff so I am okay with it.